Near Shore and on Shore: Dredge Material Containment Facility (DMCF)
From MDOT Policy Manual
Dredge Material Containment Facility (DMCF)
Primary Guidance
Containment Dike material, geotechnical properties: Unified Soil Classification to be SP or SM , with less than 30 percent passing No. 200 sieve, unless otherwise determined to be acceptable
Containment Dike material, placement and compaction: Placement in 8 inch maximum loose lifts, compacted to at least 95 percent per standard proctor (ASTM D-1557) , with top 1 ft. of material compacted to at least 98 percent of modified Proctor maximum dry density (ASTM D-1557), unless otherwise determined to be acceptable
DMCF interior freeboard limit: 2 ft. minimum
Containment Dike exterior protection: Design armored protection to a minimum of 2 ft. above MHHW
DMCF holding capacity maintained to accommodate collection of stormwater from 100 year storm event
Containment Dike, fill and cut slope angles: 3(H):1(V) or flatter, unless otherwise determined to be acceptable
Containment Dike stability, minimum factor of safety: FS = 1.3, unless otherwise determined to be acceptable
Crown of Containment Dike (Access Road): 20 ft. minimum width
DMCF planning to provide adequate capacity available to satisfy the 20 year projected dredging demand to maintain the shipping channels for the Chesapeake Bay and Baltimore Harbor
Discussion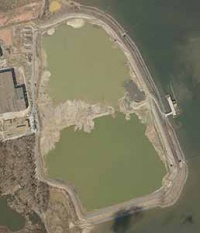 The height and crown width of a dike are primarily dependent on project constraints generally unrelated to stability. Side slopes and materials allocation within the cross section are functions of foundation conditions, material availability, and time available for construction.
For containment dike construction, materials that may be classified as "Silty Sand" with the USCS Classification of "SM" that are derived from weathering of Metamorphic Rocks, which contain significant percentage of Mica, should not be used as fill materials unless otherwise determined to be acceptable.
2 ft. minimum freeboard between the top of containment dikes and top of contained material (dredged material and/or water) must be maintained as capacity for collection of stormwater during significant rain events. DMCF design must take into consideration the provision of adequate storage volume during active inflow of dredged material, as well as for storage of excess water associated with hydraulic placement.
Minimum dike crown width to be maintained to allow for temporary access roadway for construction equipment. The crown of the containment dike is to be designed so as to allow vehicle access for operation of the DMCF as well as for maintenance and contractor activities.
Considering the extended life span of the facility, shoreline protection measures, such as armor stone, are required at the tidal water interface to minimize erosive forces due to currents and wave action.
Cost-Benefit analyses shall be performed for mitigation required for the construction of a DMCF and related facilities.
See Also